The Doritos stage - the scene of the 'crime'
I have returned from a rainy and noisy Mexico City after a weekend of Corona based revelry. I went one better than last year (when I mixed up the dates), and actually turned up, so I have a few bands and experiences to share with you this time.
We checked into a hotel a few metro stops from the arena and I was surprised at the rates. I always think that capital cities are going to be much more expensive than the rest of the country. D.F. (Districto Federal, Mexico City) is not. The metro costs 25p, a gigantic sandwich is around 1 pound 50 and a decent standard hotel was only 7 pounds each (sharing).
The festival itself is not so cheap. Food is generally awful and highly priced, and beer is Corona . . . expensive Corona. Before entering, everyone takes to guzzling food and beer at a cheaper rate than inside the ticketed gates. We met our friends and went to a nearby house that was advertising tacos for sale. We entered the back yard through a curtain and saw that they were selling a little more than just tortillas. There were around 50 people sitting around chatting and drinking
caguamas
(40oz beers) which were being sold at a quarter of the price of festival beers.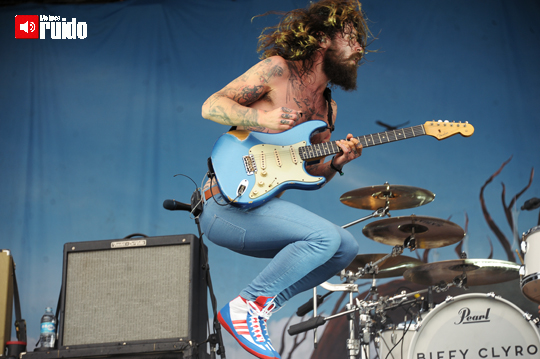 Biffy's first gig in Mexico
Whilst downing a few ales and chatting we worked out that no-one really loses from this. The festival goers get cheaper beer, the residents of the area make some money, the police probably get a little taste, and after all we were still drinking Corona beer!
Although Corona Capital is held in the same Sports pitch and stadium complex as Vive Latino festival, it is not as well set up. It took ages to get in due to them replacing your paper ticket with a meaningless beepy wristband to enter. Apparently you could add money to the wristband to buy things, but vendors still accepted cash so it was all a waste of time to me.
There was a long concrete walkway running through the festival although all of the stages and the food court in the middle were all pitch on grass with no hard path. This obviously is not ideal when it had rained for 7 hours on Friday and threatened to do the same over the weekend.
We caught some good bands on Saturday afternoon - Biffy Clyro (amazingly on their first ever Mexican gig), Kongos, and Weezer (who played most of their only good album in the last 20 years). We had switched to expensive festival beer, but the rate of consumption did not slow. So, after a while we were bursting for a piss.
Puro lodo - Pure mud
Now the stage where ALL of the good acts were playing on Saturday was helpfully located about 48km from the nearest restroom facilities. I decided to hold on, but my three amigos nipped behind a screen (stage left) to do their business. After about 30 seconds I saw three policemen excitedly pointing and jumping up and down. Then they ran (I shit you not) in a line towards the illegal urinal area, shaking their fists. "Oi Oi Oi."
I watched from afar as my mates negotiated the price, with my Mexican friends claiming that Nick (English) was so stupid, that he did not know where to go to the toilet in Mexico. The cops accepted a bribe of 2 pounds 50, to share . . . between three of them.
Idiots! They could have thrown my friends out, or at least threatened to in order to get a decent
mordida
(bribe). I laughed and turned back to watch the tattooed Scottish rockers.
We were all waiting for Massive Attack to start as they were probably the most anticipated band of the day. That's when the heavens opened. We donned our plastic ponchos (bin liners being sold for 50p each by entrepreneurial types) and braced ourselves.
However, after just three songs, a lightning storm passed close to the festival, a little too close to the stages for the comfort of the organisers. They pulled the plug and that stage was put out of commission for the evening. Massive Attack didn't return, and all I have to remember them by is a crappy t-shirt. No,
really
, I bought the t-shirt.
Corona Capital - Head and shoulders above the rest
It was pelting down by that point, so we ran for cover to the dance tent and warmed our spirits with beer. Shortly after, we all got separated and arrived home 'wolfpack' style in comically different manners:
Nick made it home on the subway after narrowly avoiding the advances of a 27 year old girl - she later told him she was actually 21 - she was probably 16.
I arrived home at 1:30a.m. after a very expensive and long taxi ride to I don't know where. I don't even know
what
I did between 11p.m. and 1a.m.
Lalo arrived to the hotel at 3:30a.m. unable to speak, having lost his phone. He then proceeded to take a 45 minute shower before collapsing into bed and snoring like a hibernating grizzly.
Finally, Juan Pablo disappeared into thin air! He was last seen swaying like sheaf of wheat in a strong breeze. No one knew where he was or if and how he got to his house. He was later discovered to be recovering well with his family.
We said goodbye to Lalo the next morning, who declined to take his present with him - a decent bottle of Miahuatlán mezcal, It's currently sitting in my drinks cabinet, so I'll raise a glass to you mate.
I decided to take it easier on Sunday as I actually wanted to
see
a few bands, so Nick and I arrived for opening time at the gates. Our search for new footwear and clothes had proved unsuccessful so we wore the same filthy jeans as the day before. Nick opted to wear his black, sodden shoes and I went for flip flops. This resulted in me getting a day-long squelchy, muddy (and cold) foot bath at the festival all day.
It rained on Sunday too, but we came better prepared (I spent a whole pound on a better poncho), and huddled in the dance tent until the beastly precipitation abated. We saw Kasabian (busy), St Vincent (a little too obsessed with her guitar), Chvrches (more Scottish excellence), Beck (rockier than expected) and Damon Albarn (with brilliant band) who churned out the Gorillaz numbers.
He did this gesture a lot - the crowd sang "ole ole ole ole"
We had a little more time to check out the exhibition tents, one of which was zona Great Britain. Disappointingly, it was just one route-master bus selling branded EVERYTHING with "Keep Calm and blah blah blah" on it. I thought I might be able to buy a jar of Branstone's pickle and some decent sausages.
Nick jumped around in the mud and splashed some revelers who got so annoyed that a genuine mud-fight almost broke out. I don't know why they got so eggy, everyone was caked in the brown stuff by then. It was comedy though watching the few people with semi clean footwear hopping around and dancing over the puddles and mush.
Although we drank very little on Sunday, I had a chance to see the comedy set up of the beer operation. It involved fifty workers sitting around in tents emptying two 330ml bottles into large paper cups. The cups were then distributed to the sellers who bomb it into the crowds to sell them. Don't get me wrong, it's awesome to not have to queue up, but I can't help thinking that they could keep staff costs down a little if they brought big barrels of beer to the festival rather than tiny bottles.
I woke up in time the next day to get breakfast in cafe Plataforma 9 3/4. Weirdly, it was a Harry Potter themed eatery (although thankfully there was no eye of newt in my huevos racheros). It just happened to be between the hotel and the tube station. I wonder if had anything to do with
this bloke
?
I've included the lineup with the bands I saw (to the best of my memory). I'll be back next year and all I can say is that I hope the lightning doesn't strike twice!
Nick & I with the disappearing man
Sábado 11 de octubre:
Jack White,
Massive Attack,
Zedd,
MGMT,
Weezer,
The Horrors,
SBTRK,
Little Dragon,
Best Coast,
Conor Oberst,
Jenny Lewis,
Holy Ghost,
Biffy Clyro,
Gus Gus,
The Goastt,
Cults,
Real Estate,
Jungle,
The Julie , uin,
Pond,
Kongos,
Hercules & Love Affair,
Black Kids,
Mø,
Deafheaven,
Yung Lean,
Black English,
Sinjin Hawke
Domingo 12 de octubre:
Kings of Leon,
Beck, Damon Albarn,
Foster The People,
Kasabian,
The Kooks,
Belle & Sebastian,
Haim,
Likke Li,
St. Vincent, Chvrches,
Metronomy,
Sky Ferreira,
Sam Smith,
Gareth Emery,
Twin Shadow,
tUnE-yArDs,
Deorro,
Neon Trees,
Temples,
White Denim,
Kodaline,
Kate Boy,
Hozier,
Cashmere Cat, Young & Sick, James Bay,
Cut Snake,
Charming Liars,
Philipp Gorbachev.