I'm early to rise on Monday mornings, and not just because I have to get out of bed for work.
At the start of each week, the regional market town of Miahuatlán de Porfirio Díaz (my current abode), hosts a huge selling frenzy which is important to most of the residents in the Sierra Sur region. So much so, that people come from hours away to turn their produce into hard earned pesos.
By 5:00am, pick-up trucks loaded with families, vegetables, baskets, fish, cows, goats, beds and just about everything begin rolling into town to set up their stalls. The market is the big cash earner for many of the traders and they probably have to pack everything up on Sunday and begin the journey to town in the dark.
Stalls are usually run by loud and bossy women who shout instructions at their downtrodden husbands about how to put the tarp up or how to display their wears. You can tell that the traders don't know each other too much as they will often ask where you bought that aubergine or pot, and how much it cost. They're checking out the competition.
"¿Qué va a llevar? ¿Qué va a llevar?" (what will you take)
they chant as you walk past.
Generally the stall holders are very cordial and are very happy to make their first sale of the day to a tall mysterious
guero
. As with most cash transactions though, you must always carry a wallet load of shrapnel as no-one ever has any change. And the prices are low, so you can't break a 100 peso bill anywhere:
(1 pound is worth 20 pesos)
A bunch of fresh herbs - 2 pesos
Plum tomatoes - 10 pesos per kg
Whole lettuce - 5 pesos
Corn - 2 pesos per cob
Medium size broccoli - 5 pesos
Potatoes - 10 pesos per kg
Courgettes - 3 for 10 pesos
Whole free range chicken - 100 pesos
Beef cut - 150 pesos per kg
Chorizo - 80 pesos per kg
Bananas or oranges - 10 pesos per kg bananas
Mangoes - 3 large for 20 pesos
Whole pineapple - 10 pesos
10 bread rolls - 10 pesos
There is a wide range of other stuff for sale; cheap plants, plastic and kitchen goods, dairy products and a whole host of food stalls selling the usual Oaxaqueñan fayre. Especially with the fruit and vegetables, the quality is very good for the price. Since moving here, I've stopped shopping at the supermarket (apart from tinned goods) as you can buy a week's worth of food for less than 10 pounds at the market. The produce is renowned in the area and is bought by many traders from the state capital and sold in their markets too.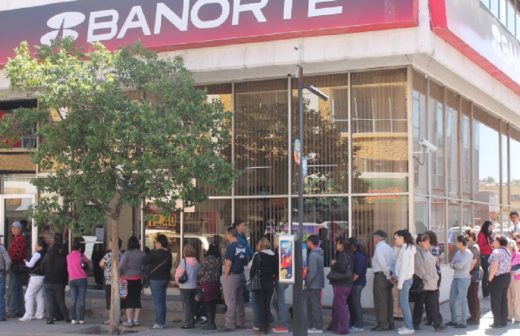 The market provides residents with quality goods at low prices, and helps rural indigenous families in the region make a living, but
Market Mondays
aren't all good news.
The town turns into complete chaos every Monday. The pavements and roads are jammed, you can't get a seat in the restaurants and the police always seem to have a rather busy day. Another reason to head in to the big town for a lot of the country-folk here is to withdraw money from Banorte Bank. Oaxaca has one of the highest migration rates (legal and illegal) to the United States. So every week, families head to Banorte (which doesn't charge for US-Mexican transfers) to pick up money sent from relatives working in America. US$200 per month can pretty much support a family, so this money becomes a life-line for many people here.
Unfortunately, many of the receivers of the money (be it from Banorte, or their day's takings) choose to spend the money unwisely; on cheap Mezcal or beer. Now we all like to party right? but seeing blokes face down at the bottom of a flight of concrete steps is always a little saddening. On a lighter note many more people seem to ride bikes on a Monday and much fun can be had by watching them pedal at an incredibly slow rate and fall off every five meters.
It's not just drunken market vendors that are changing the city. The arrival of a military base in 1994, the university in 2004 and a large maximum security prison have brought with them a huge influx of migrant workers (myself included of course). As a simple
corrupt
traditional municipality, the town has struggled to deal with outside finance and influence. The few families that have cornered the market in certain trades (housing, chicken shops, hardware supplies, dances) have understandingly not been willing to let their grip on town business go, which has led to some crime problems and long standing town feuds. Miahutlán has around 30,000 residents, although this number has almost doubled from ten years ago and the place finds itself in a state of constant revolution with new businesses and construction projects going up every day. With new money comes new opportunity, you can even get a half decent Chinese meal here now, and one taxi driver told me "Son Chinos de verdad" (they are
real
Chinese) and started bouncing up and down in his seat.
The shape of the town is also strange as it sprawls along the Oaxaca-Pochutla highway and is long and thin. Whilst this gives it a strategic position in the area, the Municipal government has to provide services for tiny satellite towns with a small Federal Government budget that goes missing all too often. Essentially, there is a divide between the old town order and the new players and migrant workers. The rental market hasn't adapted to new residents yet and many families are throwing up extra apartments and rooms to house workers and students - yet with no real idea of what we want or how much to charge. As usual, the real winners are the construction supply shops.
Well I normally visit the market early on Monday as it means that I avoid the crowds and hot weather at lunch time. Having less people to bang into is a real godsend as I can concentrate on trying not to bang my head on the metal stall frames and tarpaulins! It also gives me a good excuse to eat tacos, tamales or quesadillas for breakfast. You can always get a good feed for 20 pesos.
So there you have it - the rather manic
Market Mondays
in Miahuatlán. They have to be seen to be believed.
More adventures from the classroom next time.
¡Provecho!