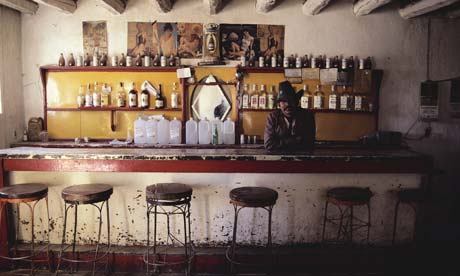 I recently celebrated turning 30 by doing a tour of some of the choice drinking establishments in Miahuatlán.
I've
written a little about the drinking culture of Oaxaca before but I thought it might interest you to take a closer look at the kind of bars you may find in a small town in Oaxaca. Miahuatlán is certainly representative of many towns in Oaxaca if Mexico, so if you have ever wondered if the dusty tequila saloons that you see in the movies are really what Mexican drinking is like, read on.
1. The cantina / cervezería:
On the lower end of the drinking scale, Mexico has many options. Public drinking laws are very strict here, so you can't drink on the street, although licensing laws are so lax that anyone can sell alcohol and serve it on their premises. Many corner shops, comedores and even off-licenses have a table and chairs to share a beer at. It often feels weird that you'll see a kid go into a stationary store to buy a new pencil and there'll be four grimy looking blokes in the corner drinking a caguama (40oz beer bottle) and playing cards.
There are many examples of the classic cantina in Miahuatlán too. These are the 'spit and sawdust' drinking holes for men only. They essentially mark up bottled beer a little and provide tables, chairs and a jukebox.
Pluses
– Cheap, very lax policy on acceptable behaviour / hygiene.
Minuses
– Unlikely to see the anyone of the fairer sex, likely to get hassled local drunkards.
Good for
- Daytime Corona fresheners.
2. The cantina bar:
There is a small space between cantinas and bars which is perfectly exemplified by Bar Zelona in Miahuatlán (not pictured, but similar). It's a small bar with screen for live sports, a selection of spirits and snacks, the obligatory jukebox and lots of Barcelona FC decorations. However, it retains a lot of cantina traits. The bar staff (Miguel and Barry) are personable but really they are 'beer bottle openers' and are always on the lookout for customers who are too drunk, or can't pay. Empty bottles are left in front of the customers and the proprietors note down each of the customers' purchases in a book with a pen. There

isn't

even a till. I would love to take an in depth look into that ledger, it would make a fascinating read. Amusingly, this bar is located 30m from Bar Madrid, so things get a bit tasty when the La Liga
Super Classico
rolls around.
Pluses
– Friendly atmosphere, amiable bar staff and the owner has a cool pug that lives in the bar.
Minuses
– A poor selection of drinks (except beer), the jukebox can be too loud, closes at random times.
Good for
– Watching sports games, evening fun.
Heath and safety will never be one of Mexico's strong points, and nobody is going to tell them that swimming and booze don't really mix well. That said, if you like beer and 5 meter diving platforms then why not enjoy them both at the same time?
After your prawn cocktail and Corona Light v
arious out-of-town
restaurants
offer you the opportunity to take a dip in their pool
. Some of them have excellent seafood, and at very reasonable prices too. You could probably spend a whole afternoon there including taxi transport, a seafood dinner and several drinks
for 10 pounds
. As they are like mini resorts, they often have nice plants, trees and real grass too, what a luxury!
Pluses
– Ascetically pleasing and with nice facilities. Hammocks are always welcome after a few bevvies.
Minuses
– You need good weather to visit them and they are day time only. You are also likely to get hassled, but by kids jumping in and out of the pool and asking you questions about the USA.
Good for
- Pool parties, outings with bigger groups.
Small town bars
aren't
the best at creating a classy atmosphere. To be fair, I respect anyone who gives it a go in Miahuatlán. It's nice to see a few more entrepreneurial types opening new places. With the town growing ever bigger, and the amount of people with a disposable income big enough for casual drinking increasing, the town now has a bigger variety of bars.
Madeleim bar is a bizarre mix of themes, facilities and

doesn't really know what it is. I certainly don't. Oaxaqueños seems to just add more things rather than find out what the clientele actually want. They sell buckets of beer (6 bottles for a discounted price), offer botanas (snacks) and have created a swanky bar ambiance . . . almost. The really strange thing is the décor. Someone obviously thought Marilyn (or Madeleim) Monroe is a classy broad and plastered her image everywhere inside. There are also loads of pictures of Bob Marley, and just to cap it off there is a huge wall devoted to pictures of Mexican Revolutionary heroes getting drunk. It's a catch-all decoration policy. Further to that, they have installed disco lights everywhere and make their staff dress in smart uniforms - you know to give it a touch of class.
Pluses
– You get lots of crisps with your beer, whisky is served in tiny goblets, and you probably like one of Marilyn Monroe, Bob Marley or Pancho Villa.
Minuses
– They use the 'bad' brewery group. The Corona group (Corona, Modelo, Victoria) is far superior to Sol (Indio, Sol, XX, Tecate).
Good for
– Birthdays, listening to jukebox banda.
There are some restaurants in town that have a nice enough atmosphere and few enough customers that you can spend an whole afternoon or evening there having a few beverages with the meal or snacks you order. Las Orquidias is a cabin-style restaurant on the highway very close to where I live. The food here is really great. It's a traditional Oaxaca grill – tacos, tlayudas and all of the classics. We went here to eat for my birthday and also to sample some of the many kinds of flavoured mezcals on offer (Prune flavor good, Scorpion flavor questionable, cinnamon flavor bad). The furniture is home made and the floor is shingle, but the service is good and the food and drink options are numerous.
Mezcals
Tlayudas!
Pluses
– A nice rustic feel, good value food and drink with excellent variety.
Minuses
– The shack gets cold at night and they shut quite early.
Good for
- Afternoon scrabble, a reasonably priced bite or a swift half while watching the tennis.
Clubs are truly weird in Oaxaca. Miahuatlán is a student town, but remember that these are students who don't drink and don't have any money. Clubs tend to cater to two audiences - students attending parties with competitions and prizes, and moneyed late night hounds looking for a nightcap. Guess which group this 30 year old falls into . . .
With labour and property so cheap, there are no shortage of discos in town, yet there is a shortage of customers. We went in to Cheques club around 1a.m. on a Friday, and it was completely empty! The club has a wealth of strange facilities including huge screens with nothing on and an empty swimming pool, but no one to enjoy them. I'm sure at times it is full but it's all or nothing with these places. In fact the atmosphere was so pumping that my serial narcoleptic housemate Mr. Adams took a prolonged nap in the middle of the dance floor.
Minuses
– Seizure inducing swirling lights, very loud, empty.
Good for
- nightcaps, drunken dancing.
I hope you enjoyed the tour of drinking establishments in a small town in Oaxaca. I know did but then I had a rather sore head my first day of being 30. Bars in Oaxaca are certainly different and always fun. If you could only get a good pint of porter and a drop of mead it would be a step in the right direction.